Tahlia Wheatley is a proud Yorta Yorta woman who first met the Buldau Yioohgen team through her love of tennis. In 2022, Tahlia attended the National Indigenous Tennis Carnival (NITC) alongside Tennis Victoria, placing fourth in the competition. It was in Larrakia Country when she caught up with Aunty Kellie and Uncle Les through the Tennis Victoria and Buldau Yioohgen partnership, and they thought she was a perfect candidate for the program.
Reflecting on the first time she walked into Darrango yan-dhan, Tahlia said "It felt like home, seeing all the pictures along the walls from different years and the fire pit outside. It got rid of my nerves."
The memories of other Aboriginal and Torres Strait Islander youth displayed on the walls of the centre provide a homely environment, where young people feel surrounded by Culture. Tahlia says that seeing what she was about to do in the next year on the walls was exciting.
Tahlia's passion for tennis came full circle in August this year when she returned to Garramilla (Darwin) to play in the NITC again. She says it was her favourite program, and that it was cool to play against other Indigenous kids. Tahlia was fascinated by the teachings of Yanyuwa and Larrakia Elder Uncle Kim Mullholland, saying "It's good to see a different side to Culture up at the top."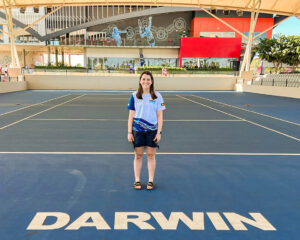 In exciting news, Tahlia has secured a position in customer service at the Australian Open next year. Remembering her first steps into the program, she says "I was quiet, reserved, and shy. Now I feel like I've grown as a person and put myself out there". Over the course of a year, Tahlia has grown as a young leader in the sporting world with Culture walking alongside her.
Read the Buldau Yioohgen Newsletter.