Anglicare Victoria has partnered with Life Without Barriers to implement the state's first MOCKINGBIRD FAMILY™ Constellation, an exciting and innovative approach to supporting our foster carers and the children and young people in their care.
MOCKINGBIRD FAMILY™ is an evidence-informed model, creating a community of local carers working together to support each other and the children and young people in their care, to increase placement stability, sibling and family connectedness, and a community of support for carers.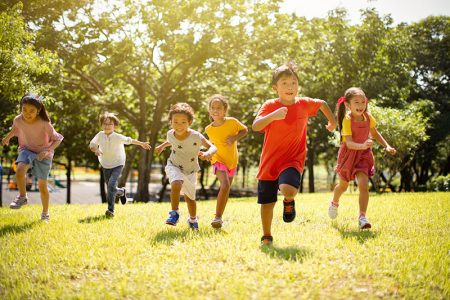 How the model works
MOCKINGBIRD FAMILY™ brings together six to ten foster and/or kinship carer families, called Satellite Families, into a local community called a Constellation. The Constellation is supported by an experienced foster carer who takes on the role of Hub Home Provider.
Being a part of the Constellation is like having an extended family, and the Hub Home is familiar and comfortable for all members of the Constellation. Each child in the Constellation is welcomed by the Hub Home Provider for visits, sleepovers, and social events, and carers are supported by the Hub Home through connection, information, training and emotional support.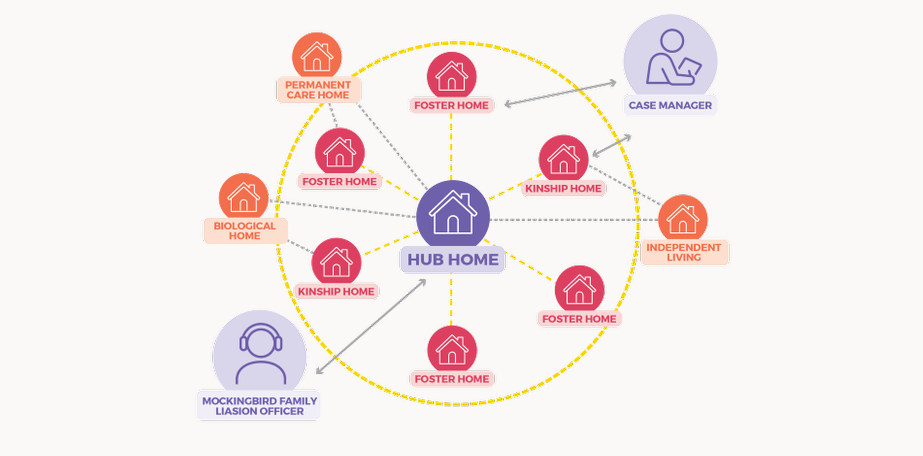 The Hub Home Provider is a carefully selected and experienced foster carer, who provides a range of practical and emotional support to Constellation families. The Hub Home Provider takes on a lead role, alongside Anglicare Victoria's dedicated Mockingbird Liaison Officer, in uniting the constellation families, organising social activities, carer get-togethers and learning for the group.
What are the benefits of MOCKINGBIRD FAMILY™
Our clients always come first at Anglicare Victoria. The best way to help vulnerable young people and families is using programs and therapies backed by strong scientific evidence showing how effective they are at changing lives for the better.
MOCKINGBIRD FAMILY™ is an established, evidence-informed, internationally evaluated model supporting foster and kinship carers, and the children and young people in their care.
International evaluations have demonstrated the following key benefits of MOCKINGBIRD FAMILY™:
Overall increased carer satisfaction, deriving from the supportive, non-judgemental peer support provided by Hub Home provider
Children remain connected to their community and culture and thrive socially, emotionally and academically
Carers receive support through respite, peer support, training and information
Positive Carer retention
Increased placement stability
"We've just welcomed a foster care child into our home – it's fantastic to have access to other local carers who we can rely on during the transition. We've also recently done a weekend respite placement with another foster child in our constellation, which went really well!"
For more information

For further information on MOCKINGBIRD FAMILY™ head to https://mockingbirdsociety.org/our-work/mockingbird-family
How can I be a part of a MOCKINGBIRD FAMILY™ Constellation?
If you are a current carer at Anglicare Victoria and want to know more about MOCKINGBIRD FAMILY™ , please contact your local care team to find out if we have a Constellation in your area.
Contact us
If you are interested in learning more about becoming a foster carer with Anglicare Victoria, please enquire below or contact us to talk with a member of the team.